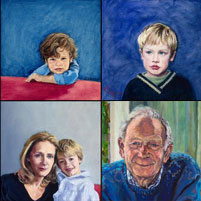 Get in touch to discuss the commissioning process or see more examples. Please give your number and the best time to get in contact.
Contact Zara Drummond directly on:
Email: zara@drummond.info
Mobile: +44 (0) 7834 882 364
Portraits are painted in oil and gesso on linen or canvas, in 2 - 8 sessions using sketches and photography in your own home or environment.
All lengths of sitting are determined by the sitter.
All timescales are estimated during the first two sittings.
'You bring the essence of love and miracles into your work and that is the wonderful gift that children bring us'